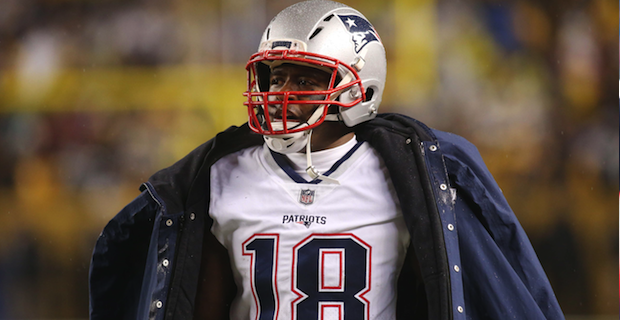 There was a brief moment this offseason where it looked like the Patriots were about to be James Harrison'd by longtime captain and special teams ace Matthew Slater.
In mid-March there was a report from ESPN's Field Yates that Slater, a free agent at the time, was visiting with New England's longtime AFC rival in the Pittsburgh Steelers. Of course, seeing the likes of Slater don the black and gold would've been just as odd of a sight as it was seeing James Harrison rock a Pats uniform throughout the playoffs this past season. 
Alas, that vision of Slater in a Steelers uniform will only be stuck in fantasy and for the photo shoppers to create as he re-signed with New England on a two-year deal just a few days after that visit. While speaking on Tuesday, Slater was asked about his quick fling in enemy territory. 
"Well, I have a lot of respect for all the teams around this league because I know how hard it is to do what we do, and I certainly have a lot of respect for teams that we've competed against, coaching staffs that I'm familiar with – nothing but respect for them and their players, their organization, their ownership across the board," he said. "But, again, I'm very thankful and humbled to have the opportunity to continue to play here."
Slater's spent his entire NFL career with the Patriots after they drafted him in the fifth round of the 2008 draft out of UCLA. Since then he's been a part of two Super Bowl winning team, while notching seven Pro Bowl nods and four first team All Pro honors to his name. 
When asked about free agency and if there was any doubt he'd return to New England, Slater called it "a unique experience, but that's the nature of the National Football League – free agency and that process.
"I'll just say I'm excited to be back, thankful to be here. It means a lot to me that I'm able to continue my career here, and I'm thankful for the belief that the ownership, coaching staff and teammates that they've shown in me. So, excited to be back."
Make sure you stay 100 percent caught up with the Patriots! Take a second to sign up for our FREE Patriots newsletter!
Had Slater left the Patriots in free agency, he would just be one of the many mainstays that have departed this offseason. Players like Danny Amendola, Nate Solder, Malcolm Butler and Dion Lewis have all, in their own way, detailed the difficulties playing in New England and under Belichick, but did commend the result of building a winning culture. 
"I think every place is tough," Slater said. "This is a very competitive league with some of the best athletes in the world. There's a premium put on winning wherever you are. Everyone wants to win and have success, and everybody's going to be judged off of whether or not they're winning. That's what it comes down to.
"I don't think that this place is unique in that regard. I think every team in this league is on a quest to win and have success, and that quest is not an easy one." 
When asked if Belichick was harder to play for than other coaches, the witty Slater answered that he wouldn't know because this is all he's know in the league. 
Just the way he likes it.